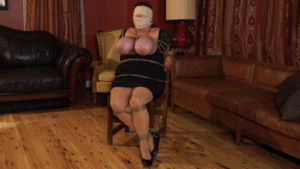 27:25 video
Elane is home invaded by two crazy girl crooks. They XXXX her into a chair and begin to tie her up. They keep asking her where she keeps her bit coins. Elane tells them they're crazy, it's all on the computer and they won't find any bit coins laying around. The girls don't believe her and they shove her mouth full of cloth and wrap duct tape around her head. They continue to tie Elane but the blonde chic is really crazy. She has long thin ropes that dig into Elane as she's tying her tight but then the girl takes her huge breast out and begins to tie them so tight that they look like they're going to pop. They turn this horrible red color and they're not through with Elane.
They take off the gag and Elane pleads for them to let her go but they don't. They gag her again and wrap elecrtical tape around her head. They tie the breast even tighter together and put nipple clamps on her. Just when Elane thinks she can't take anymore, the girls put rope through the nipple claims and form a jump rope. One girl stands turning the rope and the other girl jumps the rope pulling horribly on Elane's tits.. The girls leave after they finally found out there were no bit coins to take. STARRING Elane, JJ Plush and Sass
This is a 27 minute movie at a discounted price and it includes a bonus at the end. Several minutes of girl talk as they untie and remove Elane's gag. I feel REVENGE will happen.