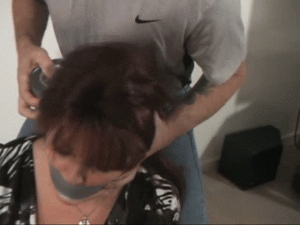 19:44 video
Steve grabs Elane and he wants to know where's Vanessa. Elane tells him she'll be home soon and wants to know what he wants with her. Evidently, Vanessa owes him money and wants it NOW. He ties Elane's hands and ankles and Elane warns him that she will scream and let Vanessa know that he's there. That was the wrong thing to say because he has a fix for that., He stuffs her mouth full and wraps sticky duct tape tightly several times around her head until she can barely breathe. Now that he's got her gagged, he really ties her ass up, Vanessa comes in and calls for Elane but then she enters the room and sees her all tied up. She tries to free Elane but Elane is trying to warn her that Steve is coming up right behind her but Vanessa can't understand her and Steve grabs her. She tries to get away but Steve ties and gags her just like Elane. He leaves to find the money and Elane and Vanessa try to get each other loose. Steve comes back and he did find some money but he's going to make the women pay for him coming out, He ties the women together back to back and then he really gets cruel. He wraps tape around their heads pushing them together and wraps it several times. If Elane moves too much she could hurt Vanessa and the same for Vanessa. They can't move anyway and they are in horrible distress because they can't move and the tape around their heads is too tight. What are they going to do?
Starring Vanessa and Elane together.
ALL TYING AND GAGGING (UP CLOSE) ON SCREEN!