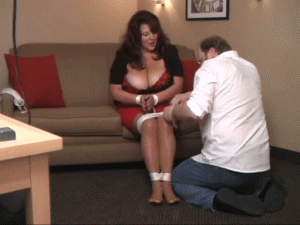 8:09 video
Elane didn't quite do the great job she was hired for. Her boss said he wanted a one on one with her in the lounge after work. He told her to take her shoes off and get comfortable. Well, he brings out this rope and she's asking if it's really necessary. He doesn't say anything and then the ropes start getting tight and she says she wants to quit but he doesn't say anything again. She protests and he takes care of that. He stuffs her mouth full and wraps clear tape around her head pushing the stuffing deep in her mouth and she's not getting it out.
He tickles her just to hear her scream through the effective gag.
ALL TYING AND GAGGING ON SCREEN, UP CLOSE.