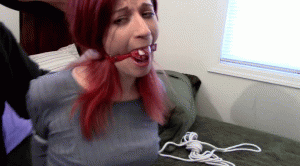 9:10 video
Tara was tied up by the home invader and Constance walks in on them. The man grabs Constance and drags her into one of the bedrooms. The scene opens with her tied up and the man puts a ballgag in her mouth to shut her up. He leaves her to go check on her friend. Constance struggles but he's got her arms tied so tightly behind her she can't get loose. She get to stand up and starts to get away and the man comes in and puts her back on the bed and makes sure that doesn't happen again by tying her in a tight hogtie. She is louder than the man needed her to be so he takes care of that. He goes back in and takes her ballgag out and replaces it with a cleave gag, mouth filling cloth and tape wrapped around her head. MUCH QUIETER NOW...but now she is so mad...she is SCREAMING through the gag. The man comes back and tells her that he's taking her keys and car and SEE YA.
Starring Constance and Tara Tied
GAGS UP CLOSE AND MOUTH FILLING!